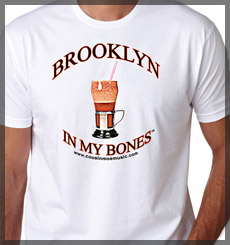 $19.95



Available in White or Grey. Name brands only
Allow 3-6 weeks for delivery


Shipping in the US
is ONLY $5.95!

(for orders of 4 items or less)
Call for cost on larger orders.

International Orders:
To purchase outside of the U.S. please send email inquiries tocousinmoe58@aol.comfor quotes on shipping costs.

Bulk Orders:
Organizations or stores that wish to order in bulk, please contact Jeff Alexander through email at cousinmoe58@aol.com, or 314-368-3418 (despite the area code, I am in Brooklyn).

Brooklyn or Brooklyn related businesses that wish to purchase customized orders of Brooklyn In My Bones™ shirts with their business name or logo on the back of shirt are welcome to inquire regarding this.